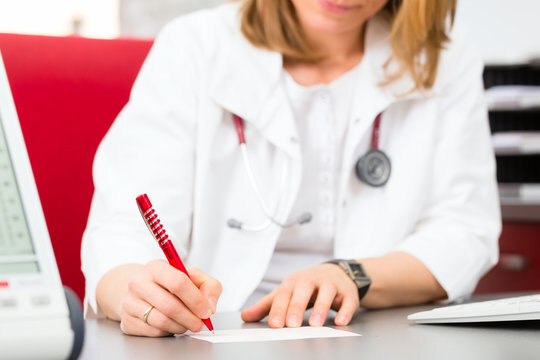 Occasionally employers may come across a medical certificate from an employee which seems suspicious. It could be because it looks like it has been photocopied, or there is reasonable suspicion that the worker may not have been sick. In these circumstances, the employer may wonder what they can do to address this concern with the worker.
Employers are within their rights to seek confirmation that a certificate is authentic, and this can be done with or without the employee's consent.
Several websites allow people to access medical certificates online which sound appealing as it avoids the inconvenience of making an appointment and then waiting at the doctor's clinic. Some websites also allow for certificates to be issued without prior consultation with a doctor.
The Australian Medical Association (AMA) guidelines place importance on consultation, either in person or online or via telephone.
Most online medical certificate providers rely heavily on the tele-health component to promote the legitimacy of their certificates. The use of tele-health consultations has likely increased during the pandemic as people are generally more cautious about leaving their home when they are sick. Further, patients who live in rural or remote areas who cannot easily access a doctor face-to-face may prefer tele-health consultations. Therefore, employers should not automatically treat an online medical certificate as unsatisfactory evidence.
When should employees be providing medical certificates?
Section 107 of the Fair Work Act 2009 (Cth) (the Act) provides that for an employee to receive an entitlement to paid personal/carer's leave, they must provide notice to their employer as soon as practicable and, if required, evidence that satisfies a reasonable person that the leave is taken for a reason specified in the Act.
If an employee does not comply with these requirements, they will not be entitled to payment for the absence and could be subject to disciplinary action for not following a lawful and reasonable direction.
What information should be included in a medical certificate?
The purpose of the AMA guidelines is to clarify the responsibilities of doctors, patients and relevant third parties regarding medical certificates within the context of the doctor-patient relationship.
The guidelines specify that the usual requirements of a medical certificate include:
Name and address of the doctor issuing the certificate;
Name of the patient;
Date on which the examination took place;
Date on which the certificate was issued;
Date(s) on which the patient is or was unfit for attendance.
The certificate should be legible and written so that a non-medical person is able to read and understand it.
Certificates must be dated on the day on which they were written. The guidelines make it very clear that certificates should not be backdated under any circumstances. However, there may be circumstances where the doctor will certify that a period of illness occurred prior to the date of examination.
When may an employer question a certificate?
Even if a certificate meets the requirements outlined above, an employer may still have doubts. An employer may choose to investigate a certificate's authenticity if:
there's reason to believe a medical certificate has been fraudulently created or altered by an employee;
there's evidence to suggest the employee was not ill or injured on the days certified;
the certificate is backdated (or where the period of unfitness for work is before the date of consultation with the doctor).
Whilst the employee's consent is not required before verifying the authenticity of a medical certificate, employers should proceed with caution. Failure to accept a genuine certificate could be considered a breach of the general protections provisions in the Act.
Tips for employers
A medical certificate should be clear about when the employee is/was unfit for work and why. The AMA guidelines outlined above can be used when scrutinising a certificate's authenticity.
If there are any inconsistencies in the certificate, or it does not look "right" then employers should question the doctor or contact the clinic. Generally, doctors/medical receptionists will be able to confirm a patient's attendance but will not discuss medical conditions with third parties.
Employers can also direct an employee to attend an independent medical examination at any stage of their investigation.
Potential outcomes
If it is found that an employee has provided a fraudulent certificate, disciplinary action may be appropriate. In most circumstances this would be a warning however, termination could be considered, particularly where it is found that the employee has provided several false certificates over a period. Employers should seek legal advice if they are considering terminating an employee's employment.